The HSBB game Friday night, at Sangamon Valley, will start at 5:30 pm.
JH Winter Formal
Friday's junior high Christmas spirit day is Deck the Halls Day. Help us deck the halls of FJHS with Christmas cheer! Wear your favorite Christmas apparel or an ugly Christmas sweater. Which student will be decked out in the most Christmas spirit?
South County VS Raymond Lincoln Wood Friday, December 20th Canned goods or toys can be used for admission to the game. The price to get into the game will be a 6 pack of canned goods per family or a new packaged toy. Individuals can bring 2 cans per person or packaged toy.
Thursday's junior high Christmas spirit day is 'Twas the Night Before Christmas Day. Wear your comfy pajamas and slippers to school, just like you do on the night before Christmas. Also, there are only two days left to bring in food items; which class will bring the most and win the pizza party?
One snow day, two snow days, three snow days-No Way! Tomorrow the junior high spirit day will combine all three days into one! So, on Wednesday, feel free to wear a Christmas hat, Christmas socks, and all red (Santa) or all green (Elf)! Let's see how festive everyone can get! Don't forget to also keep bringing in food items! We are down to the last three days of the food drive!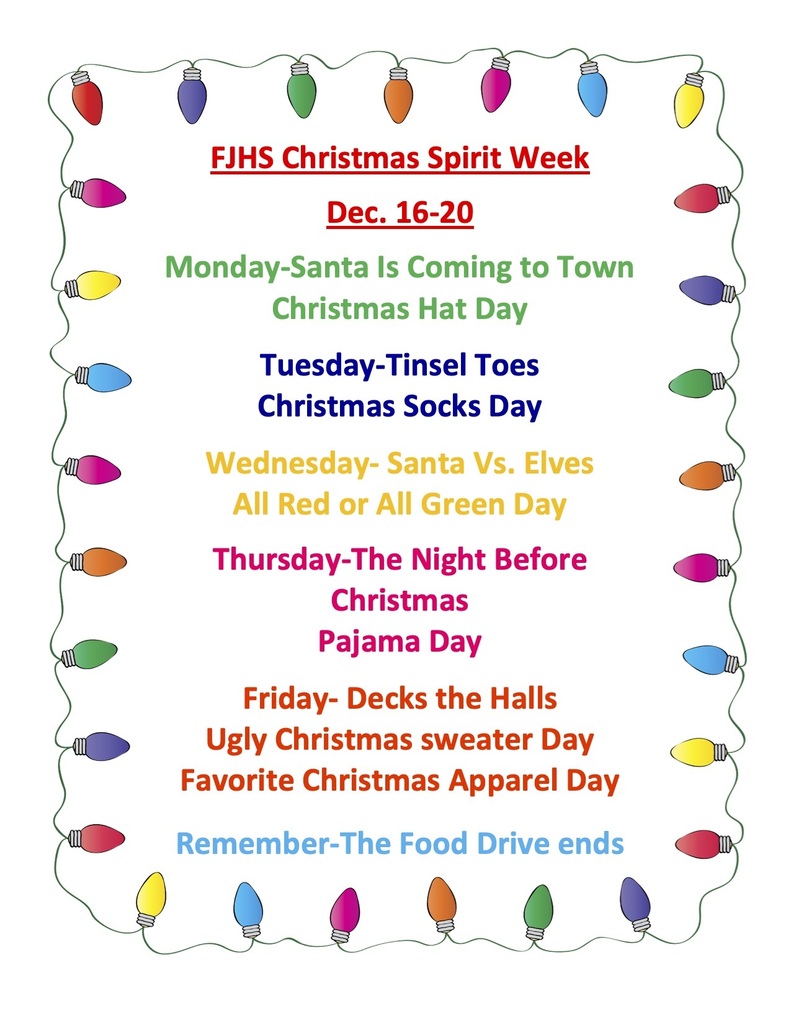 The Franklin school district will be closed today, Tuesday December 17th, due to poor road conditions. Last night many of our roads drifted shut and at this time we do not believe we can safely transport all students to school.
Cafeteria menu changes for the week Tuesday menu Breakfast: French Toast Sticks Lunch: Tater Tot Casserole Wednesday menu Breakfast: Breakfast Burrito Lunch: Chicken Alfredo
Due to having a snow day today, the junior high Christmas spirit day tomorrow will be Santa is Coming to Town Day and Tinsel Toes Day. Please wear your favorite Christmas hats and socks to school Tuesday! See you all soon!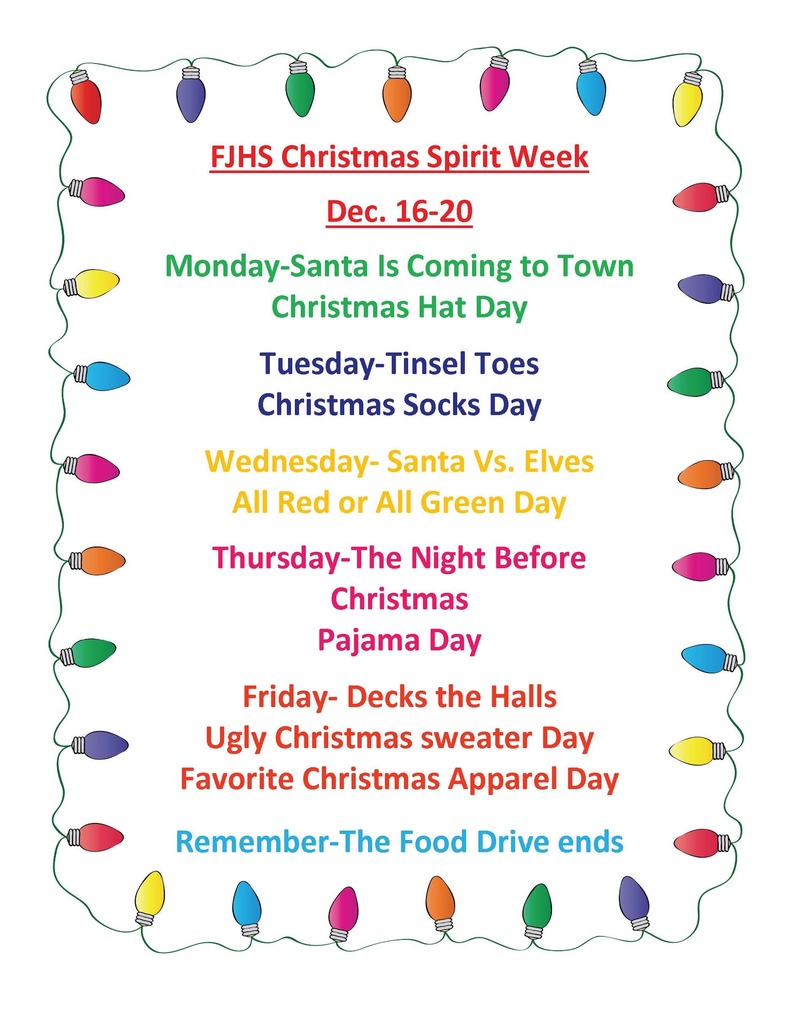 The Franklin School district will be closed on Monday December 16th, due to dangerous road conditions.
Junior High students, remember to wear a fun Christmas hat to school tomorrow! Also, keep bringing in those non-perishable food items! The Food Drive ends Friday morning.

🎳 Tomorrow is the last day to turn in your form for bowling on December 29th at the Bowl Inn. PTF is sponsoring our students 😀
Congratulations to 3 of our students as November Student of the Month at CACC. Ethan Hansell - Cooperative Kim Franklin - Cosmetology Isabella Borcky - Photography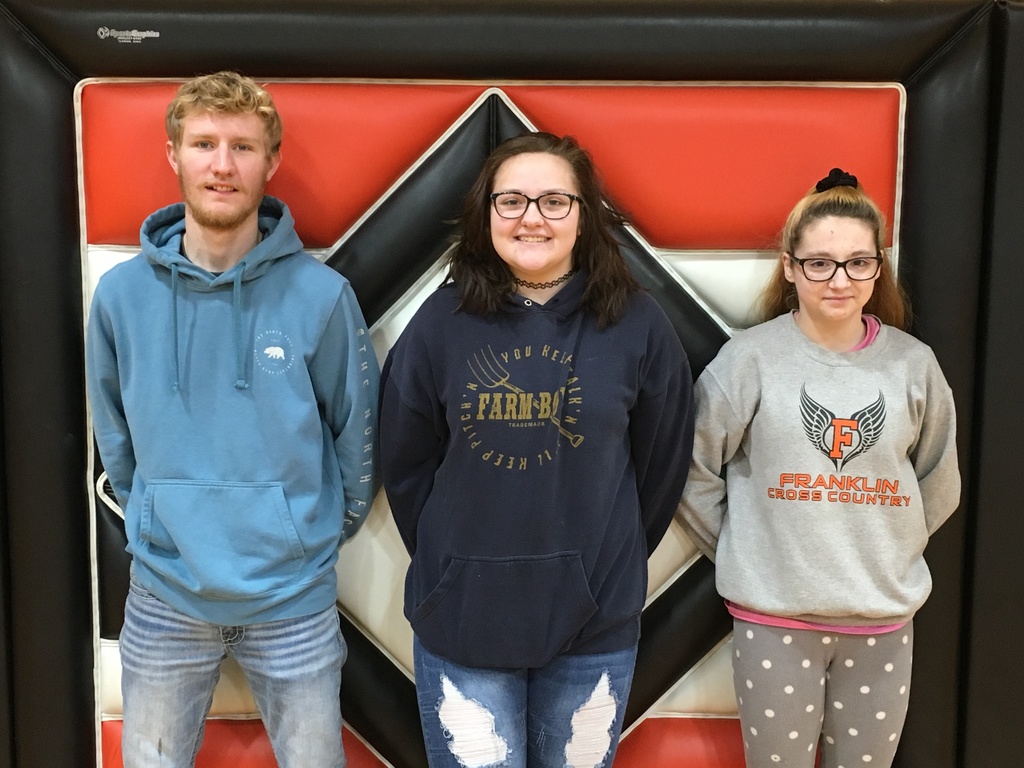 We hope all of our PK-5th grade students will join us this evening for our Community Christmas concert. It all starts at 5:30, if students could arrive by 5:15 that would be great. See you there! 🎅🎼☃️🎄

Franklin 4th of July Committee presents the Franklin Christmas Festival held at the high school. Here is the scheduled events for this weekend.

🏐🏐 There will be a JR. HIGH VOLLEYBALL parent meeting Thursday, December 5th at 6:30pm. This will be held in the HS computer lab. Please have a parent/guardian AND the player attend. If you have any questions, please contact Coach Mutch at
jmutch@franklinhigh.com
Junior High Spirit Day! The theme was Camo Day.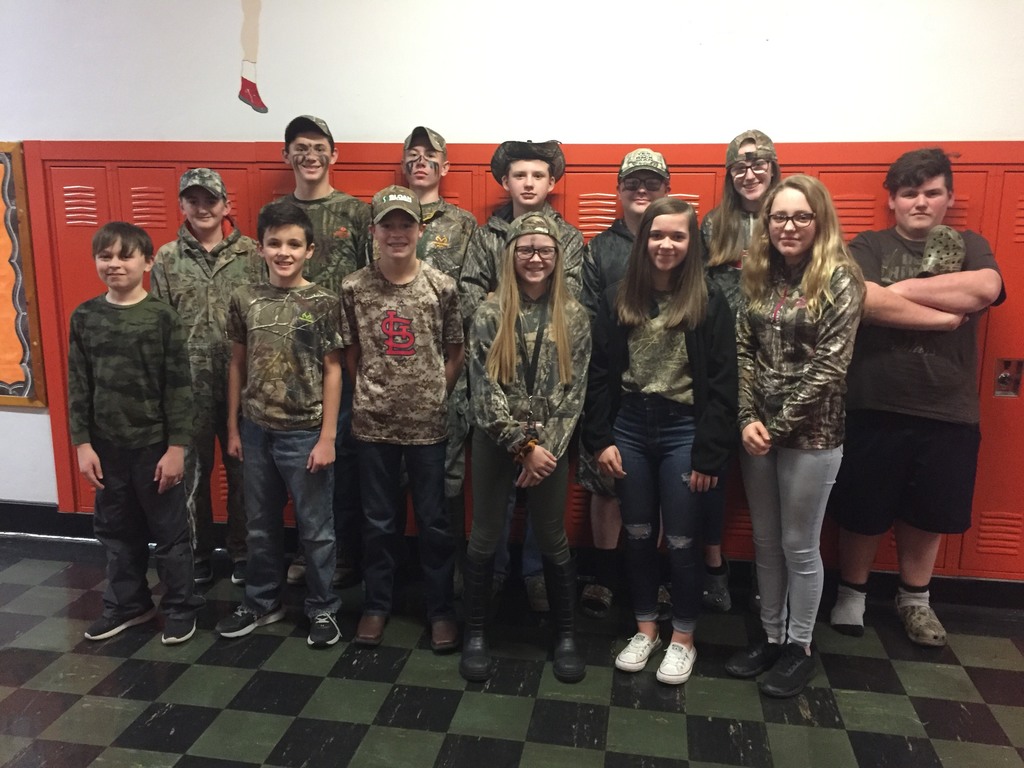 SADD members will be selling tickets for a meat raffle and the drawing is February 12th at the HS boys basketball game. Need not be present to win. Tickets will be sold at home games or you can contact any SADD member to buy tickets.