Good evening.  Tonight we have been made aware of a disruption of internet service for customers of Royell Communications Company.  In the event that your internet service is not working in the morning, we will open the school up for students to sit in the gym and access the schools' internet.  Doors will open at 8am.  Breakfast will not be served and busses will not be running.  It is an unfortunate situation, but we are trying to provide the best alternative we can.  Remember that tomorrow is a half-day, and students will be dismissed at 11:30am.  Hopefully everyone's service will be restored and we can have our remote learning half-day as planned.  Thank you for your patience and support during these unusual times. 
6-12 Half-day Schedule

Thank you to all our Veterans!!
We want to make sure everyone is updated on the schedule for the remainder of the week. Wednesday, November 11th is a student attendance day. Wednesday, November 11th - Remote learning Thursday, November 12th – Students attend in-person Friday, November 13th – Remote learning / 11:30 schedule
Congratulations to the Franklin chess team!!!! The kids played in the Morton chess tournament this weekend. 13 kids participated and it was all done on-line from their homes. The high school had a breakout day. We finished in a tie for second place out of 10 teams. Franklin won 3 out of 4 team matches. The schools we played all had high school enrollments of over 600 and we ultimately lost to Dunlap which has an enrollment of 1283. Thad Bergschnieder. Mitchell Tapscott, Cole Delany, Trevor Colwell, Isaac Carter, and Shayne White all played. The Junior high kids also did great. Caden Colwell won all 4 of his games and tied for first place. Chase and Aiden Marcel and Clark Bergschnieder all won three of 4 to join a multi way tie for second place. AJ Harris, Zoey Ercegovich, Kristy Wright also participated. All did well and everyone got on the scoreboard. It was a great day for Franklin and it's great in this crazy year that we can still have some events.
This is a reminder that Friday November 13th is a 11:30 professional development day. Students in grades 6-12 will have classes periods 5-8 this day.
Attention Parents: Due to the positive case of COVID19, we will not be able to provide breakfast or lunch during the shutdown of schools. We apologize for this inconvenience, however the situation is out of our control. We will notify you just as soon as we are able to provide meals again. Dr. Simonson, Mr. Waggener, Mrs. Willman
October 30, 2020 Good evening Franklin Families and Staff, This letter is to inform you of a positive case of COVID19 at the Jr-Sr High building. We have been actively communicating with the Morgan County Health Department and are following the Illinois Department of Public Health guidelines as well. Those infected or exposed have been quarantined in their home. As always, the health and safety of our students and staff is priority number one. We have been preparing for this type of situation since August in the event our school would need to continue our educational days in remote learning. With that in mind, we will be switching to our remote learning educational plan for all students beginning November 2nd and continue through November 11th. Students will return to school on Thursday November 12th. November 3rd, election day, will still be a holiday and no remote learning will be scheduled. Our teachers and students have been doing an excellent job of utilizing online learning on Fridays and we are confident our students will carry on the remote learning process during our lockdown. We will continue to monitor the current situation and will provide any additional information as it becomes available. All buildings in the Franklin district will be closed and no access is available. Sincerely, Dr. Simonson, Mr. Waggener, Mrs. Willman
WFNB Football Fill the Trailer Food Drive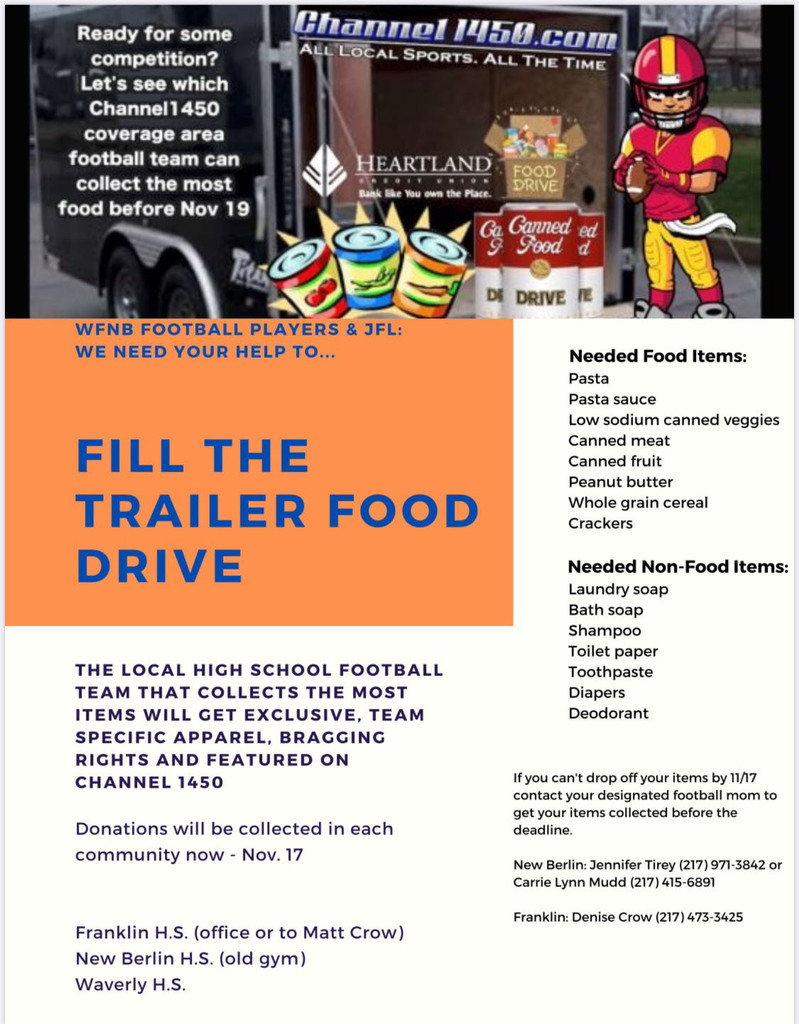 Please take note that the regular scheduled October board meeting will be held on Tuesday October 27 at 6:30 pm. Agenda:
https://5il.co/mghc

Reminder- all schools in Illinois will NOT be in session on Tuesday, November 3rd. The Illinois legislature decided to give this day off so all who are eligible to vote can do so. We are IN session on Monday, November 2nd. **We will now be IN session on March 1, 2021, Casimir Pulaski Day.
Lunch menu change for October 22nd. Mexican casserole, lettuce and fruit
Parent - Teacher Conference Announcement for 6-12th grade. Parent - Teacher Conferences , for 6-12th grade, will be October 28th and 29th from 5pm to 8pm each day. You have the option of meeting with your child's teacher face-to-face or by remote online Zoom call. Please go online to reserve your conference time. Schedule online at
https://franklincusd1.meettheteacher.com
If you have any issues scheduling or need to make changes, please contact Dawn in the HS office for assistance. After you have scheduled your appointment, if you wish to meet with the teacher via Zoom you will need to contact them directly to make arrangements.
Seniors & Sophomores Jostens will be here on Wednesday, Oct 14th to receive your graduation / ring orders. Please bring your completed order form along with a deposit to the school. Jostens will be her until 8:05 am
JH Cheer will have a mandatory parent meeting in the cafeteria tonight at 5:30. Please email Mrs. Willhite with any questions! See you tonight!