Good Afternoon Franklin Families, Franklin Schools will be in returning to in-person instruction on Monday December 14. Busses will run the regular schedules and school doors will open as usual at 7:45am. We look forward to a great week of education. Dr. Simonson, Christy, Jeff
Notice to Junior and Senior High Parents (grades 6-12) December 10, 2020 Good afternoon, Franklin. As we come to the end of our first semester, I wanted to thank our students, parents, and staff for making the first full COVID-19 semester as successful as possible. Usually our focus at this time would be on preparing for final exams. This year, we want to be responsive to the needs of our students. With that in mind, we will not be having final exams. Instead we will be offering Academic Support and Recovery Days to those students who have been struggling. On Wednesday, December 16, and Thursday December 17, we will change our schedule to accommodate extended class time where teachers will work with students to make up assignments and get them turned in for credit this semester. Any student with a grade of D or F will attend both days. Students with a grade of B or C in a class can choose to come in to work on raising their grade. If your student has straight A's, they are exempt from attending. Our goal always is to help our students to be successful, and during these stressful times that is exactly what we plan to do. The schedule for Wednesday and Thursday is listed below. Academic Support and Recovery Days: Wednesday, December 16, 7:45am to 1:00pm (lunch from 1:00 to 1:30pm) Thursday, December 17, 7:45am to 1:00 pm (lunch from 1:00 to 1:30pm) On Thursday, additional meals will be sent home for Friday. Teachers will be talking with students on Monday and Tuesday to confirm who will attend and where they will report first thing on Wednesday and Thursday. Students with D's or F's must attend both days. Students who are currently in remote will need to discuss their schedule for Wednesday and Thursday with their teachers beforehand. Transportation will be provided, as usual. If your student will only need to attend a portion of the day, you will need to make transportation arrangements. We urge our students to take advantage of this opportunity. Jeff Waggener
https://5il.co/nrqh
GOOD MORNING. DUE TO INFORMATION RECEIVED BY THE DISTRICT LATE FRIDAY EVENING, THE FRANKLIN SCHOOLS WILL REMAIN IN REMOTE-LEARNING UNTIL AT LEAST FRIDAY DECEMBER 11TH. STUDENTS WILL LOG ON TO THEIR CLASSES AS USUAL ON MONDAY DECEMBER 7TH. WE WILL UPDATE YOU ON THE STATUS OF RETURNING TO IN-PERSON INSTRUCTION LATER NEXT WEEK. WE APPRECIATE YOUR UNDERSTANDING AS THE COVID-19 PANDEMIC CONTINUES TO IMPACT OUR SCHOOLS.
Good afternoon. First of all, we would like to thank you for your understanding and support during our time away from school this week. After talking with the Board of Education, we have decided to bring students back to school on Monday December 7. We value the importance of students being at school and are always aware of the issues associated with COVID 19. It is our goal to provide the safest possible educational setting as possible. We are looking forward to seeing all students back in school on Monday December 7th. Dr. Simonson, Jeff Waggener, Christy Willman
Notice of change: The regularly scheduled school board meeting will be held on Tuesday, December 15th. There was an error on the original posting.
Good afternoon. We hope that everyone has had a restful Thanksgiving break. With that being said, due to the increase of COVID19 positive cases in and around our district, all schools in the Franklin CUSD #1 district will go to remote learning on Monday November 30th. Monday November 30th will be a remote planning day. No instruction will occur. This planning day will allow our teachers and parents to prepare for the extended remote learning period. Beginning on Tuesday December 1st, students will be attending remotely as planned. We will remain on full remote learning until Monday December 14th. Hopefully by that time the positive cases will be declining, and we can safely return to in-person instruction. Please have a plan in place should the need arise to extend the remote learning phase. The administration will continue to monitor our region and make the safest decisions possible for our students. Students can pick up their electronic devices, at their school (East or Main Campus) on Monday November 30th from 8 am to 4 pm. Free lunch and breakfast will continue to be made available for everyone. Beginning Tuesday December 1st sack breakfast and sack lunch for the week will be available. You must call the high school office and put in your request on Monday 11/30, 217-675-2395. On Friday 12/4 please call the office to request your meals for pick up on Monday 12/7. By calling and putting in your request, we will not have any wasted food. Pick up time will be 11 am to 12 noon. These meals will be picked up at the main lobby of the high school building. As administrators, the safety of our students and community will always come first. We have worked hard on our remote learning plan for just this possibility. Working together, we can work through this and still provide meaningful education for our students. Thank you in advance for your assistance and understanding. Sincerely, Dr. Simonson, Jeff Waggener, Christy Willman

Monday is the start of our Christmas Spirit Week- wear any fun Christmas gear and your ugly sweaters!!! ❄️🎄🎅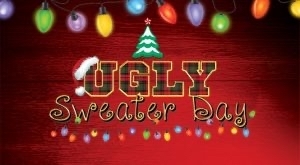 Good evening.  Tonight we have been made aware of a disruption of internet service for customers of Royell Communications Company.  In the event that your internet service is not working in the morning, we will open the school up for students to sit in the gym and access the schools' internet.  Doors will open at 8am.  Breakfast will not be served and busses will not be running.  It is an unfortunate situation, but we are trying to provide the best alternative we can.  Remember that tomorrow is a half-day, and students will be dismissed at 11:30am.  Hopefully everyone's service will be restored and we can have our remote learning half-day as planned.  Thank you for your patience and support during these unusual times. 
6-12 Half-day Schedule

Thank you to all our Veterans!!
We want to make sure everyone is updated on the schedule for the remainder of the week. Wednesday, November 11th is a student attendance day. Wednesday, November 11th - Remote learning Thursday, November 12th – Students attend in-person Friday, November 13th – Remote learning / 11:30 schedule
Congratulations to the Franklin chess team!!!! The kids played in the Morton chess tournament this weekend. 13 kids participated and it was all done on-line from their homes. The high school had a breakout day. We finished in a tie for second place out of 10 teams. Franklin won 3 out of 4 team matches. The schools we played all had high school enrollments of over 600 and we ultimately lost to Dunlap which has an enrollment of 1283. Thad Bergschnieder. Mitchell Tapscott, Cole Delany, Trevor Colwell, Isaac Carter, and Shayne White all played. The Junior high kids also did great. Caden Colwell won all 4 of his games and tied for first place. Chase and Aiden Marcel and Clark Bergschnieder all won three of 4 to join a multi way tie for second place. AJ Harris, Zoey Ercegovich, Kristy Wright also participated. All did well and everyone got on the scoreboard. It was a great day for Franklin and it's great in this crazy year that we can still have some events.
This is a reminder that Friday November 13th is a 11:30 professional development day. Students in grades 6-12 will have classes periods 5-8 this day.
Attention Parents: Due to the positive case of COVID19, we will not be able to provide breakfast or lunch during the shutdown of schools. We apologize for this inconvenience, however the situation is out of our control. We will notify you just as soon as we are able to provide meals again. Dr. Simonson, Mr. Waggener, Mrs. Willman