Graduation Practice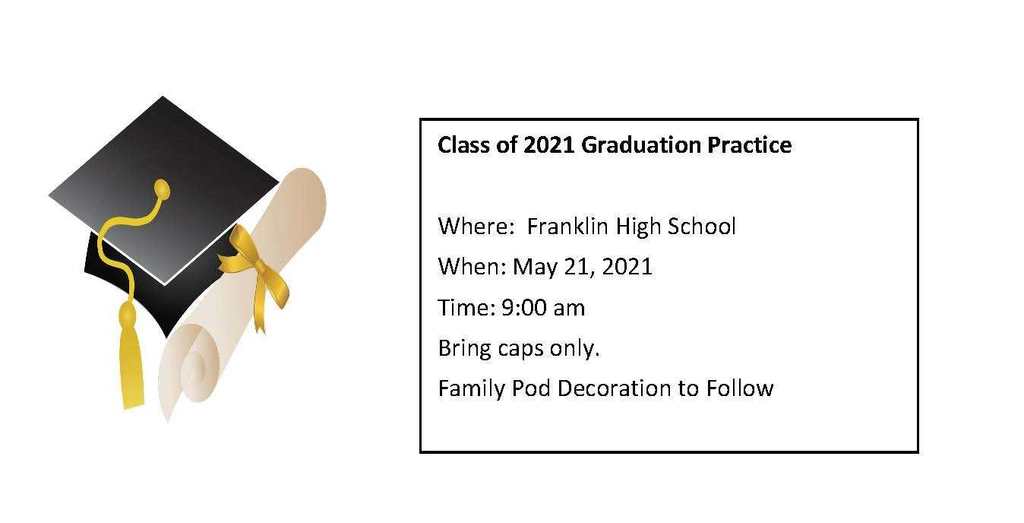 I can only post 4 pics at a time so here are a few more from 6th grade Harry Potter day.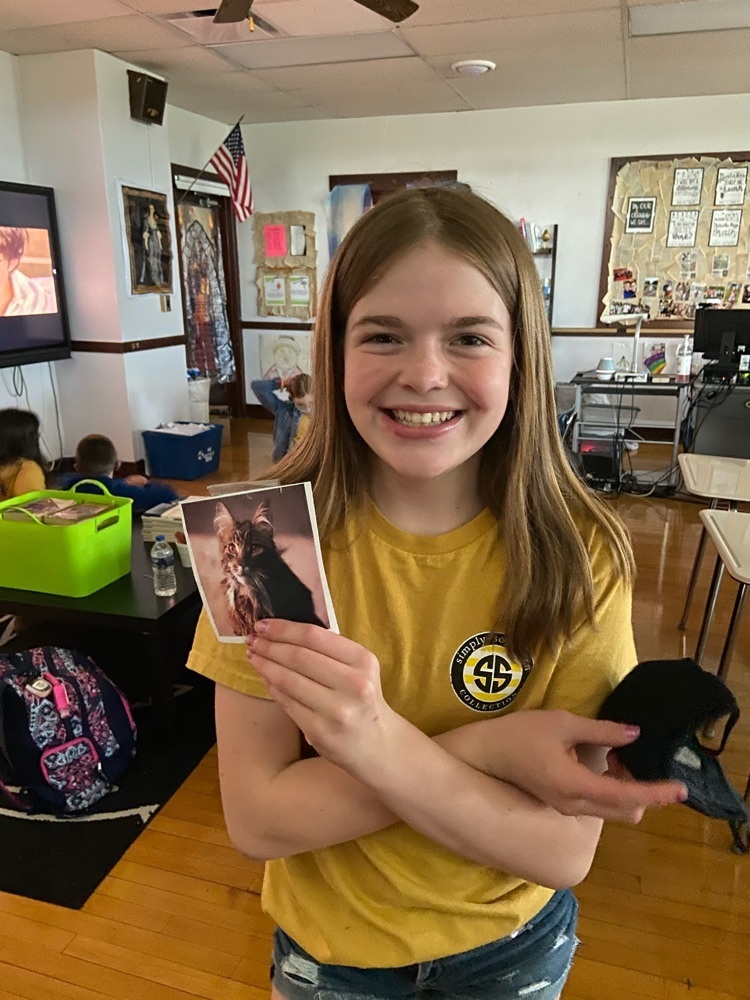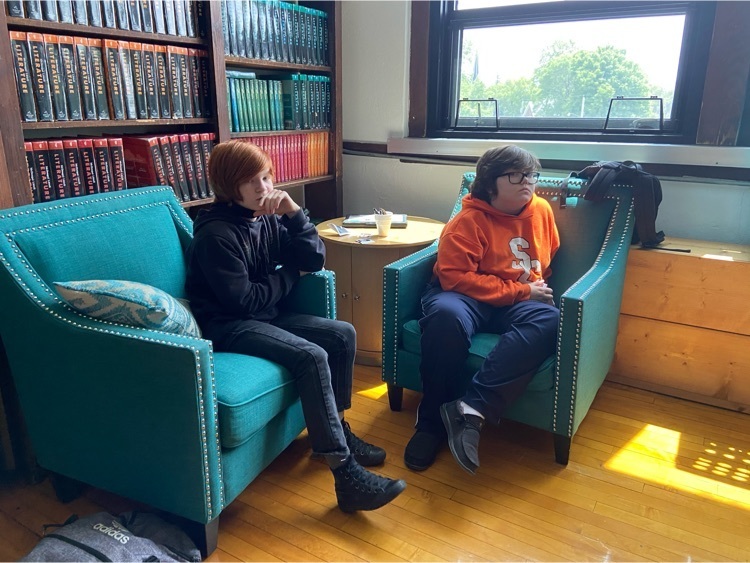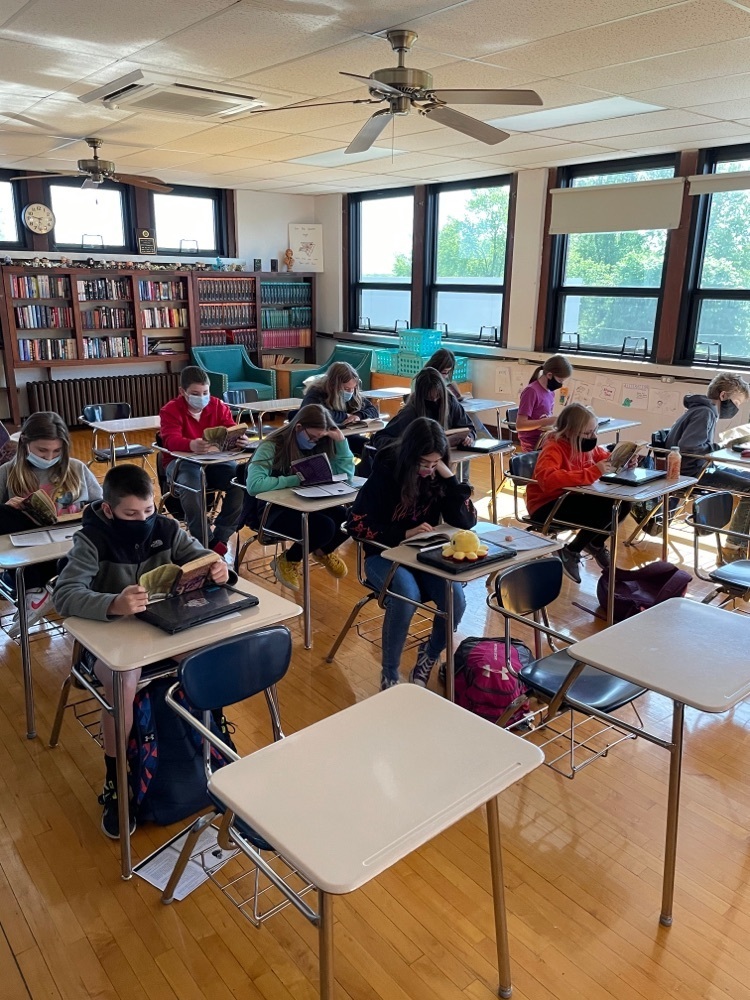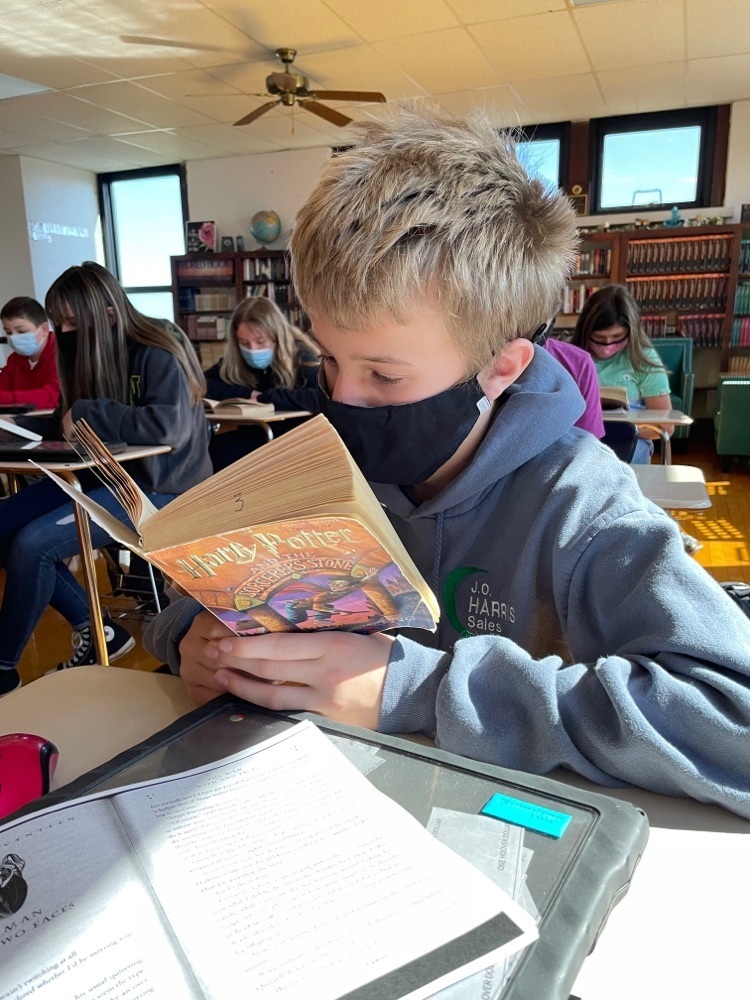 6th grade wrapped up their Harry Potter unit! 🧹⚡️They enjoyed watching the movie while having butter beer and cakes! They love Mrs. Billick- they are going to miss her next year!! 🧡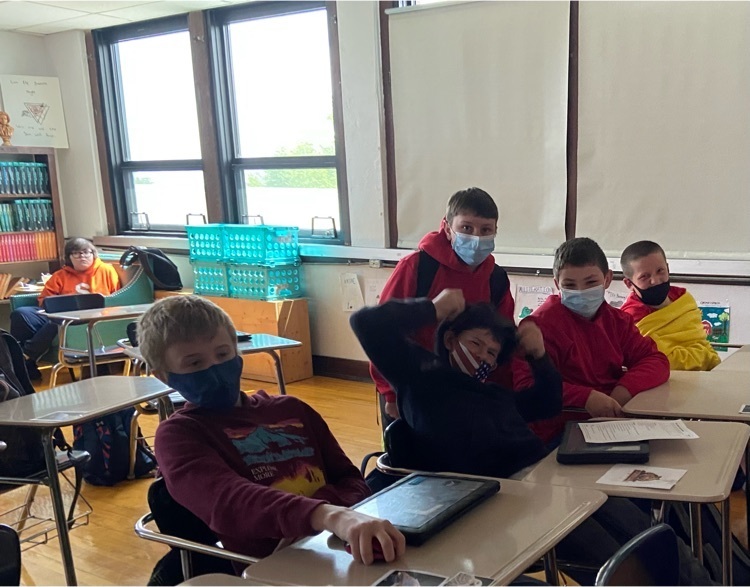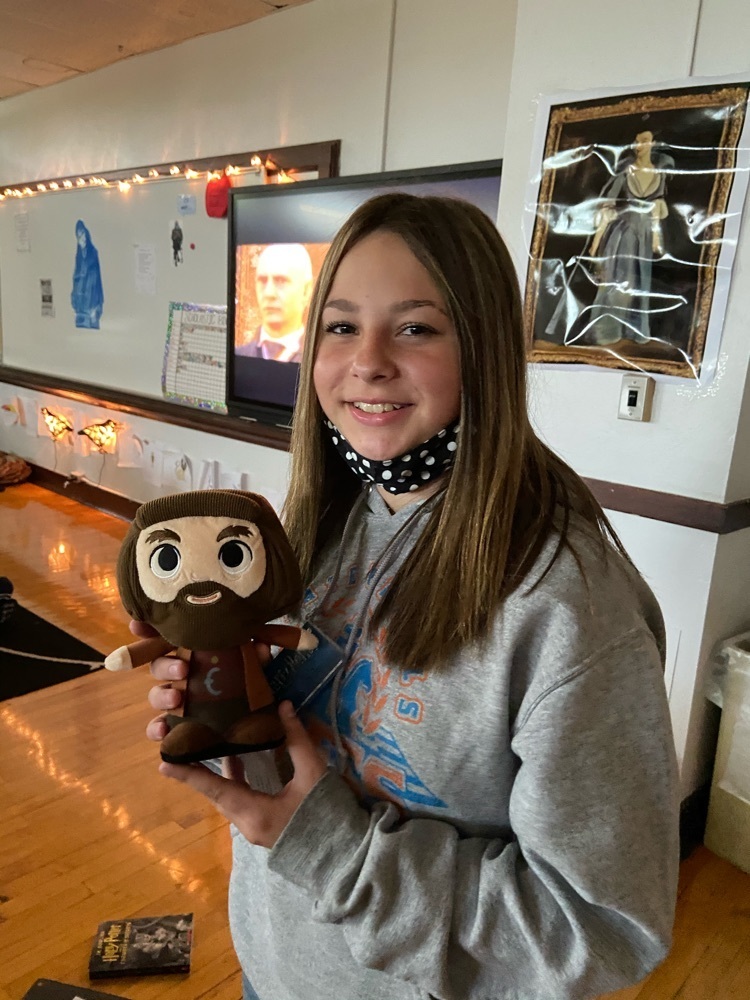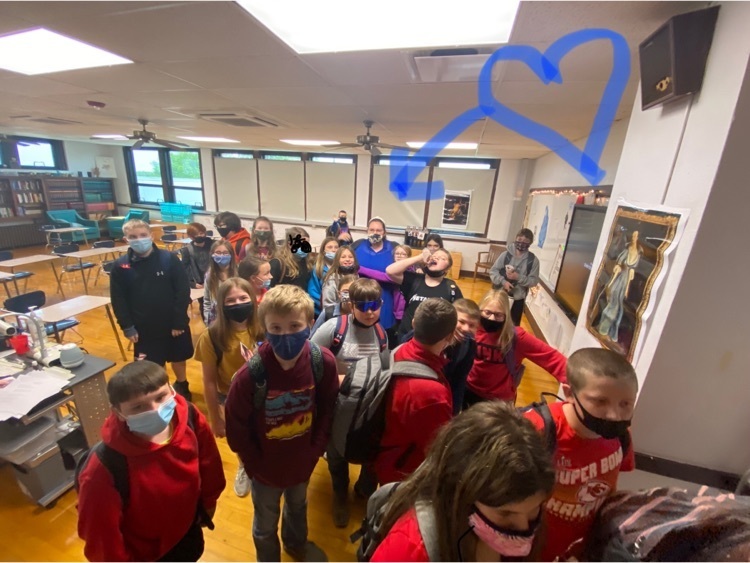 We will be hosting our 8th Grade Honors night on May 24th at 6:30 pm. The event will be held in the gym. Parents and immediate family members are invited. Masks must be worn and please social distance as best as possible. Students are not required to attend. Please call the office and let us know if your 8th grade student will be attending.
https://5il.co/sl3q
FHS Class of 2021 Graduation Ceremony Announcement! Date: May 21, 2021 Time: 6:30 PM Where: High School Parking Lot Click link for more details.
https://5il.co/shri
This past week, seniors in Mrs. Willhite's classroom have been channeling their inner Pablo Picasso. Advanced Biology students: Bethany Bergschneider, Mollie Allen, Sydney Tapscott, Madden Delaney and Callie Hughes came up with the perfect design! They decided to paint Rosalind Franklin, a key female scientist in the discovery of the structure of DNA, and a halo of DNA around her! They believe it's important to highlight the importance of women in science! Shout out to Madden Delaney with the amazing portrait skills.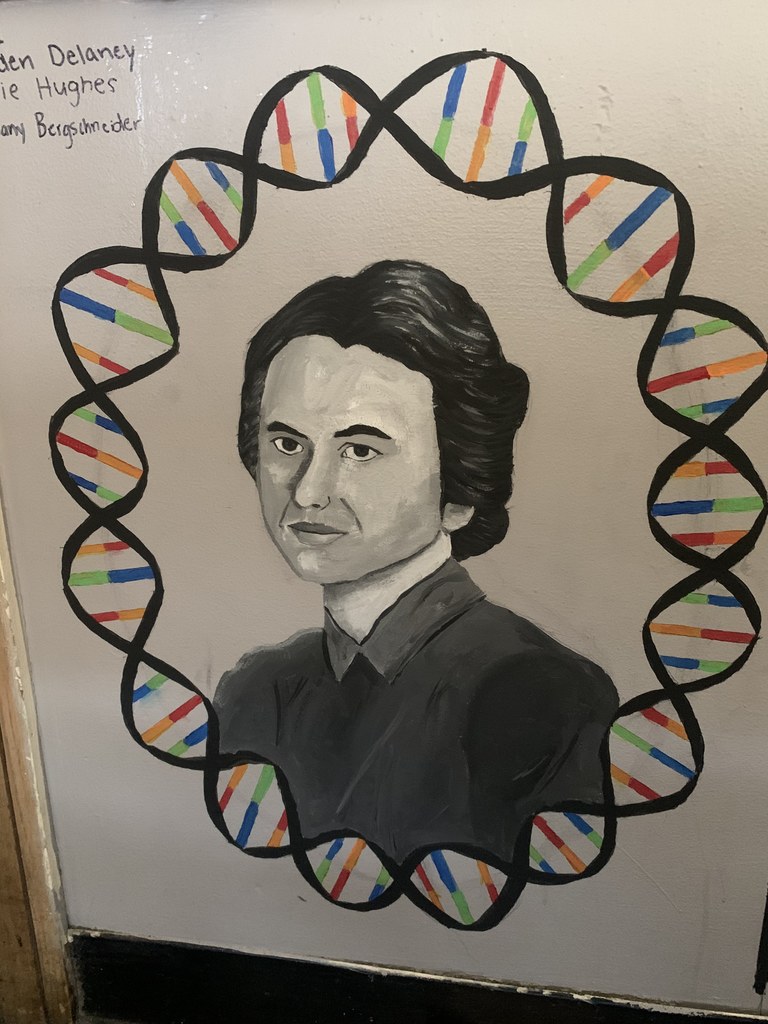 SUMMER WORK CREW We are looking for 5 students, 16 years of age or older to work on the Summer Work Crew for the District. • The job will be to clean, move furniture, paint and any other duties as assigned. • The daily work schedule will be 6:30 am to 2:30 pm with a 30-minute lunch. • The pay will be $11.00 per hour. • Start date is June 7th Stop by the office and pick up a job application. Interviews will begin May 25th
https://5il.co/sdp7
School Year 21-22 August 16 & 17, 2021 - Teacher In-Service August 18, 2021 - First Day of Student Attendance We will get a full calendar out soon! School registration for the 21-22 year will be held June 1-4, 2021. Registration will be online via your parent Teacher Ease account. If you do not have access to your account, we ask that you contact us now so we can get you setup before registration. New families entering the school district will be provided a link to start the registration process. We will provide more information as registration gets closer.
5-5-21 Good afternoon Franklin. I wanted to update you on the condition of the East Grade building. Yesterday we had a structural engineer and an asbestos inspector in the building. The good news is that no asbestos was detected in the ceiling samples taken. The bad news is that we cannot use the building until the 4 ceiling areas of concern can be fixed. This means that all students from East Grade will finish the school year at the Jr-Sr High complex. The staff has worked tirelessly to make adjustments and to ensure a great educational setting is in place. We appreciate your flexibility and understanding during this event. I am confident that our staff and students will finish the year strong. Jeff Waggener Superintendent of Schools
Good afternoon Franklin, We will continue to have the East Grade students attend classes at the Jr-Sr high building tomorrow, Wednesday May 5th. East Grade parents will drop off and pick up at the front door of the high school. Please be assured that Staff will be greeting your students at the doorway and assisting them to their classes. I have had a structural engineer and an Asbestos inspector at East Grade today evaluating the situation. We should have results in the next day or two. I will keep you informed as the situation progresses. Thank you for your patience throughout this unexpected event. Jeff Waggener Superintendent
For parents picking up students in grades PreK thru 2nd grade, you will be picking them up in front of the Jr/Sr high building. If you arrive before the buses, make sure to park in a spot. Please do not line up or block bus traffic until after the buses have left the parking lot.
Good morning. Late yesterday afternoon, some plaster fell from the ceiling of a classroom at East Grade School. The drop ceiling caught the plaster and none hit the floor area. Today, in the interest of safety, we are moving all students and staff from East Grade to the Jr-Sr High building. This will allow us to take a better look at the extent of the damage and evaluate what our next steps will be. I will keep you informed as soon as more information is gathered. Safety of our students and staff is the foremost concern and will always drive our decisions. Thanks for your understanding during this time. Jeff Waggener, Superintendent.
Dear Parents, The Spring Final Exam Schedules are listed below. Seniors- May 6th and 7th May 6th Schedule: 1st – 8:10 to 9:20 2nd – 9:23 to 10:33 3rd – 10:36 to 11:46 4th – 11:49 to 1:00 May 7th Schedule: 5th – 8:10 to 9:20 6th – 9:23 to 10:33 7th – 10:36 – 11:36 8th – 11:49 to 1:00 Underclassmen Grades 9-11: Finals are May 20th and 21st May 20th Schedule: 5th – 8:10 to 9:20 6th – 9:23 to 10:33 7th – 10:36 – 11:36 8th – 11:49 to 1:00 May 21st Schedule: 1st – 8:10 to 9:20 2nd – 9:23 to 10:33 3rd – 10:36 to 11:46 4th – 11:49 to 1:00 ** We will be printing the exemption list as we get closer to finals** Students may leave at the completion of their last exam. Jeff Waggener Superintendent Principal 6-12
Jr-Sr High schedule for April 30th.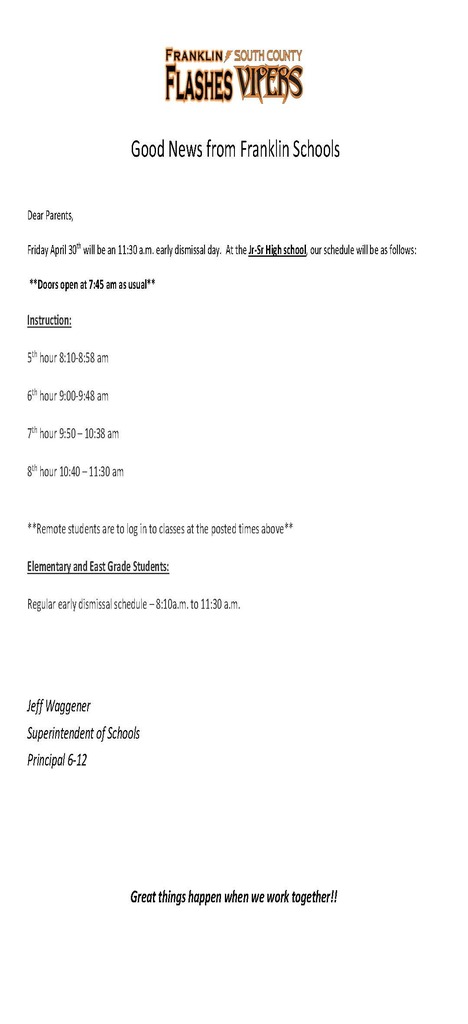 Check out this cool You Tube channel that Jacki Hartman is doing. Jacki has two elementary kids in the district, she is a paraplegic who is training to fly a paramotor. Power Paragliding is something Jacki has wanted to do since her husband Sean did the training. He sparked the interest, she did a tandem flight and now she is ready to take it on herself! Hope you can follow along and support her during this adventure!
https://www.youtube.com/watch?v=P1P8VYe4HtY
We are flipping Tuesday's and Wednesday's lunch menus for next week. April 27, Taco, Lettuce, Cheese, Salsa, Sour Cream, Peaches April 28, Johnny Rib on Bun, Hash Brown Bake, Apple Crisp